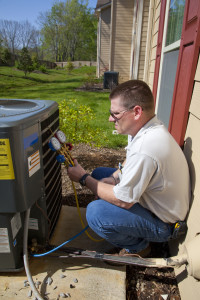 Being a reputable HVAC contractor, we take great pride in offering our services to help our worthy customers with their HVAC repair and installation needs. Our experienced and skilled technicians are fully aware of how important it is to have a functional HVAC system that works without requiring a lot of maintenance. An HVAC contractor performs the repairs and installations of heaters, vents, air conditioners, and other related equipment such as thermostats, furnaces, boilers, ductwork, and heat pumps. Some contractors are also licensed and trained to carry out tasks like doing energy audits, and sealing ducts.
The heating and air conditioning contractors are generally certified with a North American Technician Excellent (NATE) certification, which can be referred to as the most prominent award for HVAC contractors. It is important for a contractor to pass state licensing exam before being allowed to work on a heating and cooling system. The exam thoroughly evaluates the practical knowledge concerning parts, functions, and related repair techniques of HVAC systems. Mechanical codes are also examined, which ensure the safety and protection of the equipment of the client. After the contractor has successfully cleared the exam, the contractor is licensed to offer services in the industry. It is the responsibility of the professional to comply with the rules and regulations, as required by the certification.
Whether it is workers' protection insurance, liability insurance, or business insurance, most HVAC contractors are needed to carry some kind of insurance policy. This insurance provides security to the contractor for any kind of damage occurred to the equipment at client's premises during the work. It is important for every heating and air conditioning company to have a valid license number that must be clearly visible on the company's vehicle as well as on different advertisements published by the company. This lets client know that the contractor is reputable.
A great quality of a prolific HVAC contractor is to always put the client's interests first and remain courteous to the client. A good level of professionalism must be demonstrated by the contractor and the contractor should be able to explain all necessary details to the client in layman's terms to help him understand what is going to be done to their HVAC system. In order to deliver quality results, the contractor should be in constant touch with the latest trends happening in the industry about heating and cooling technology. Also, the HVAC contractor must select the best equipment, based on the system of the client.
When a house needs a new heating or cooling system, the contractor will perform desired calculations and thoroughly explain all aspects that support the purchase of a new HVAC system. If you are looking for a quality HVAC contractor, you must look no further than our company. Our professionals meet all legal and practical requirements that are mentioned in the above lines. Being a successful heating and air conditioning contractor, we always look forward to take all necessary steps to ensure that our customers are satisfied with our services. Our technicians take great interest in making our clients happy by delivering high quality services.
Feel free to ask any questions that you have about HVAC system repairs and installations.